After sitting on the floor and eating off of paper plates while standing at the counter, the moving van finally showed up with my belongings.  Happy Day!!  We're really glad we had the movers, as it took 3 of them several hours to get everything in and (mostly) in the proper rooms.  All those stairs!  Then the really big job began…unpacking all those boxes.  It took us several weeks of a bit now and a bit later, but everything is unpacked, and our house is beginning to look like a home.  Just don't look in that back bedroom!
<![if !supportEmptyParas]> <![endif]>
After the scare of his life flying from Maine to here, Fluff became an Alaskan cat this past weekend.  I'm sure he thought the 12+ hour flight would never end and that he was doomed!  He was very glad to got back on solid ground, and immediately started checking out his new digs.  He and Aurora, the dog, and still keeping an eye on each other from a distance, but we hope they'll become more tolerant of each other at time goes by.  Aurora's puppy-like exuberance is giving Fluff fits!
<![if !supportEmptyParas]> <![endif]>
<![if !vml]>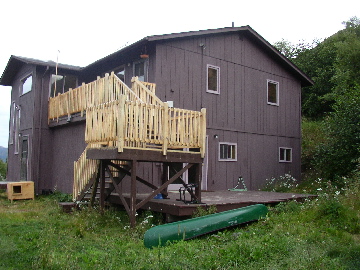 <![endif]><![if !vml]>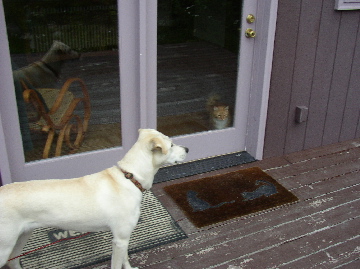 <![endif]><![if !vml]>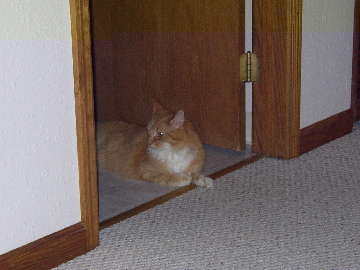 <![endif]><![if !vml]>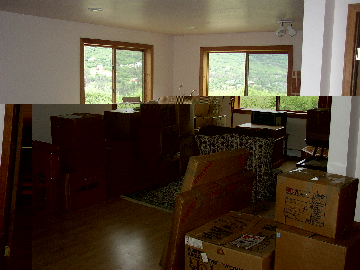 <![endif]><![if !vml]>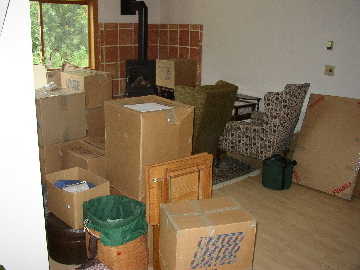 <![endif]><![if !vml]>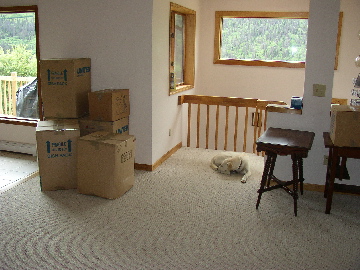 <![endif]>We've both started our new jobs, and everything is going well in that respect.  We've been so busy unpacking and with work that we haven't had much time to enjoy the outdoors much, but hope to go camping and fishing this Labor Day weekend.