8/2/03
For the first time since we've been here, today dawned bright and sunny instead of overcast and rainy.  Walking out of the bedroom I looked out the picture window facing north, and there sat Denali, big <![if !vml]>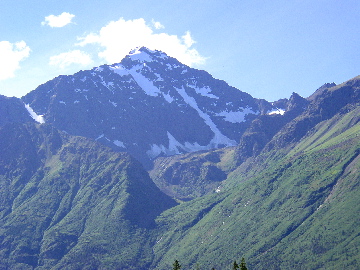 <![endif]>as all get out and perfectly framed by the window and the other mountains in the area.  We couldn't have had a better view of it even if we could move the house or the mountain. 
Denali, at 20,000+ feet, makes its own weather and if often hidden in the clouds and haze.  It's frequently visible only a third to a quarter of the time, and many people have come to Alaska, some several times, and never seen it.  When it's visible, the locals talk of "The Mountain being out".  As it's around 125 miles off and the weather's been bad, we never realized we had such a perfect view.  What a surprise!  I couldn't get a photo of it, as the snow on the mountain blended into the clouds, and in the digital photos you couldn't see it.
<![if !vml]>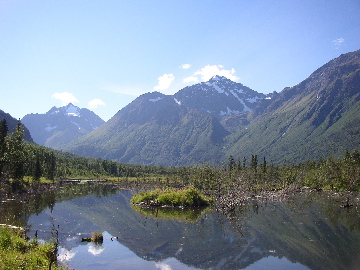 <![endif]>
Because the weather was so nice, and because this is my last weekend off (~~sigh~~), we decided to go for a short hike at the Eagle River Nature Center in Chugach State Park, which is right here in Eagle <![if !vml]>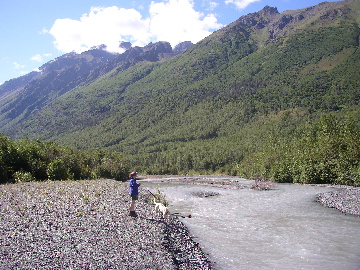 <![endif]>River, just a few minutes from the house.  The park, which includes the Chugach Mountains (the ones you see when you fly into Anchorage) is just under a half million acres, making it the third largest state park in the country.
<![if !vml]>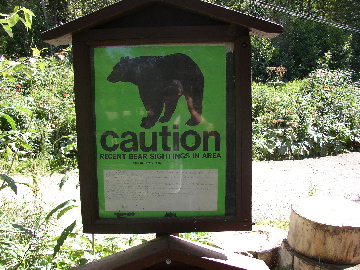 <![endif]>The hike was an easy 3 mile one (thank you, Lord) and took us right by the Eagle River.  The river is gray looking from all the silt it carries down from Eagle River Glacier, where it starts.  We didn't see any large animals, but were warned about bears and in fact saw some of their "scat" on the trail.  We also saw a pair of Barrow's Goldeneye ducks and a Spruce Grouse.
Other than that, we're starting to settle in.  As mentioned, I start work on Monday, Oh Joy.  Cecelia has one more week of vacation before starting her new job.  I've got my Alaska driver's license, and more importantly, my Alaska fishing license!  My stuff hasn't made it here yet; hopefully this next week.  Cecelia's is still in Fairbanks, although she did go up this past week to get her car and some essentials (we have pots to cook in now—and a microwave!!!)
Thanks to all for checking in on us through this page, and thanks to Ralph for hosting it for me on his server.  Keep in touch!!  Wally
Hi, Everyone
This past week was spent getting settled into our home. We have made many trips to Fred Meyer's—it's like a super WalMart. If you can't find it at Fred's, it's probably not around.
The house is fabulous and much more house than either one of us thought we would find. It paid off to establish e-mail with a realtor back in April! I'm a little frustrated at not being able to get all my belongings in Fairbanks—couldn't find a spare u-haul in Fairbanks. I flew up to Fairbanks this past Weds and packed as much into my car as possible. The trip back was long (7 hours) but very scenic. I drove along the Alaska Mountain Range until near home, where the Chucach Range takes over.  I'm enjoying the many conveniences of modern day homes that I didn't have in Fairbanks—dishwasher, water from a well and not delivered in a truck, and a garbage disposal. Aurora is excited nonstop. She sleeps on the stair landing if one of us is upstairs and the other downstairs—has to keep track of both of us.
Today  was a great day for hiking as Wally mentioned. The trail meandered  in and out of the forest, alongside Eagle River, and had gorgeous views of glaciated mountains. There were many signs warning of bear sightings and people would pencil in their own latest sighting. The last sighting was on August 1!!! Of course, Wally came prepared with bear spray so we were all set—as long as he could get the safety clip off the canister in 20 seconds. We ate lunch on one of the decks that overlooks the river and saw many salmon "smolts". They were no bigger than a few inches. Aurora went into a frenzy when we saw the spruce grouse ahead of us on the path. I won't be able to let her off the leash until the bears have hibernated.
Well, that's about all I have to say. Love to all.   Cecelia
<![if !vml]>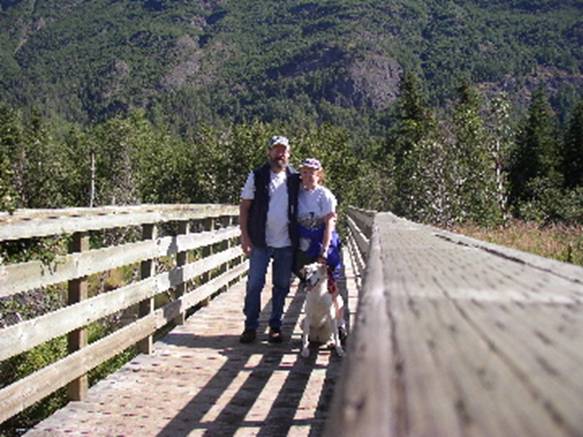 <![endif]><![if !vml]>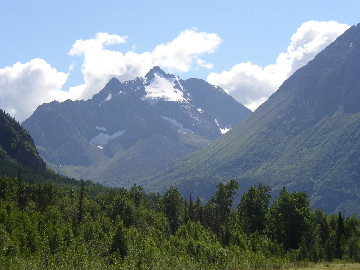 <![endif]><![if !vml]>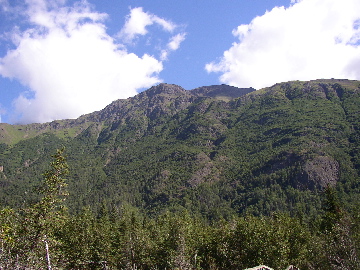 <![endif]>