3/8/04
Inside the Iditarod Sled Dog Race

When Cecelia and I heard that the Iditarod Trail Committee was still looking for volunteer dog handlers for the race a month ago, we decided we had to try it. Our job would be to help get the dog teams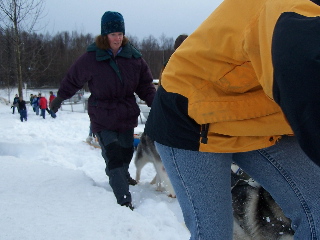 from the staging area to the starting line. First came a mandatory class to become ITC certified dog handlers, which we completed a couple of weeks ago. Even with only 4 dogs hooked up to the sled, you could tell they had an unbelievable amount of power.

Cecelia at the dog handler's class

The instructors kept prefacing their remarks with "I don't want to scare you, but…" and then went on to tell us about getting hands and fingers caught in the harnesses and lead ropes, falling down and getting run over by the team and then getting hit by the sled, etc. The most important lesson was to not step on the dog's feet, or you would have to explain to a very angry musher why his dog, worth several thousand dollars, would not be going to Nome!

Finally the first Saturday of March came, and I headed to Anchorage for the ceremonial start of the race at 6:30 AM. It wasn't light yet, but streets were already blocked off and there was plenty of activity with the mushers and dogs arriving, along with an army of volunteers. The dog handlers met our coordinator just behind the starting line and issued the all important arm bands that would allow us to remain inside the fenced off area. There were over 100 of us!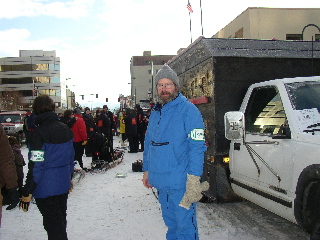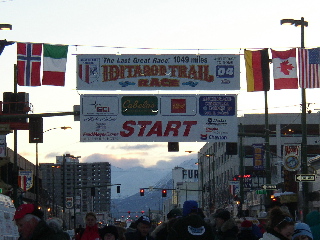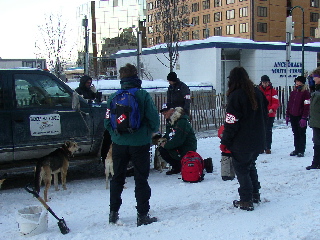 As the starting time drew near, the place seemed to erupt into coordinated bedlam as 87 mushers laid out their sleds and gear, and over1,300 dogs got into harness. As this is the ceremonial start, things were fairly relaxed and the mushers were signing autographs and having their pictures taken. We were taken to the back of the staging area and assigned to a musher. When we found him or her, we reported in and were told exactly how he/she wanted her dogs handled. Each was a little different. As the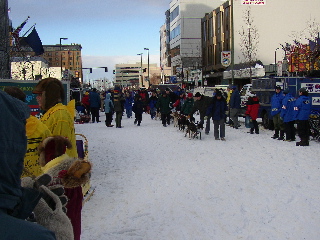 race started, we stood by "our" dogs and tried to keep them untangled, no easy feat when some of them are jumping chest-high! The noise from the dogs was absolutely deafening!

When our turn came, we grabbed the lead lines or harnesses, as the musher preferred, and brought the dogs and sled to the starting line. At the word GO, we released them and got the hell out of the way! We then went back to the coordinator and got assigned to another team as needed. It took over 3 hours to get them all off. Some 15 to 20 thousand spectators lined the streets to watch them.

That night we headed up to Willow and the official start of the race, which would happen the next day. As traffic was predicted to be horrendous, and given the fact we had to be there several hours early, we stayed in a B&B a few miles up from Willow. It turned out that the owners were both Iditarod veterans, and one was a judge at this year's race! We heard lots of stories.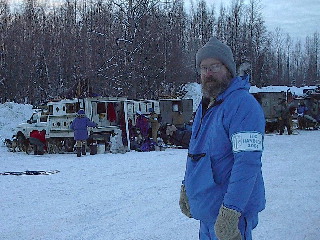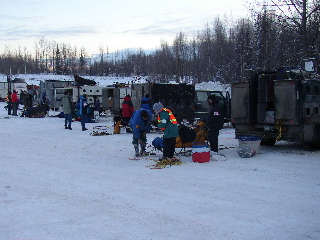 Sunday dawned at 10 below 0 as we made our way to the staging area. Mushers and dog teams were already starting to arrive and get their gear spread out. The mood was much more serious this time as dogs were harnessed up and sleds packed for the 1049 miles to Nome. We were to be much busier today, as each team consisted of 16 dogs rather than the 12 used in Anchorage and there were fewer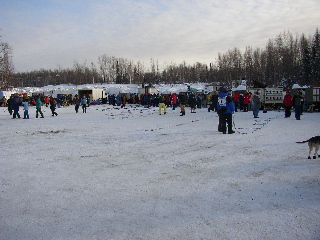 volunteers.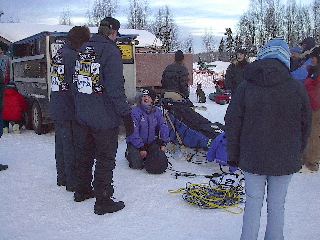 We once again met our coordinator and got our first assignments. The first team we led off was rearing to go, and we pretty much ran the entire ¼ mile down a slope in loose snow to the starting line, which was out on a lake. What a workout! We held the dogs as the musher was announced and the two minute warning was given. As the countdown ticked on, we kept the dogs untangled and broke up any minor fights that occurred. Another team of volunteers held the sled in place. At the word GO we all backed off, and they were on their way.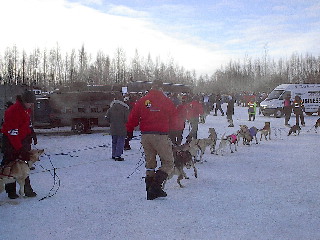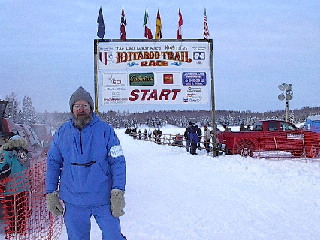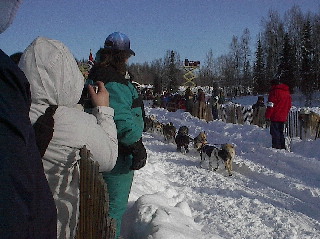 We immediately went back up to get reassigned. In all, we helped 5 or 6 teams to the starting line. After the final musher was on his way, we hung around to help break down the fences and pack things away for next year's start. We each got an official volunteer hat and pin, then headed back to the car, where we got stuck in a half hour traffic jam…in rural Alaska!! We arrived home a bit stiff and sore but with a sense of being apart of Alaska history. We checked the Iditarod web page several times to see how "our" mushers were doing. None were in the top 10, but a lot can happen in 9 days over 1049 miles!